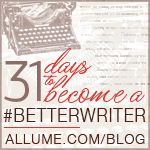 Part 1 of my blogging history is here.
Once I transferred from Blogger to WordPress, I started to take my blogging a little more seriously. Less quantity perhaps as I began to wander away from the memes but more quality. I participated in 31 Days to Build a Better Blog (Darren Rowse/ProBlogger) with the SITS Girls. Click here to visit ProBlogger. (I highly recommended this program by the way and here is a link to get it for 40% off the regular price! Click here to view more details .) My blog grew by leaps and bounds and I was learning all sorts of wonderful things about some of the more technical aspects of blogging … as well as writing.
2011 was not, by and large, a year that I would want to repeat. I signed up for the Relevant Conference in October and that was the high point of my year. I would definitely recommend it to any Christian Woman blogger. In fact it could benefit any blogger whether they are a Christian woman or not! But before I got on that train to Pennsylvania … we had a lot of family stress brought on by an adult child who chose her addictions over her kids in addition to job, financial and health stress. I blogged about all of it without much reservation. Then in August of 2011 my mom contacted me and told me that her antivirus would no longer let her visit my blog. Similar messages followed from a number of friends. Some how a hacker had gotten into my website (through a Tim Thumb vulnerability in a plug-in). I did a number of things to try to get rid of the malware to no avail. I didn't have the money to hire someone to fix it for me and I wanted it fixed now. I backed my content up as well as I knew how, held my breath, and deleted all 3 of my blogs! Yep … I wiped them out completely!
Then I rebuilt them from scratch. I've always done my own blog design and building. Still learning some of those things. I couldn't figure out how to restore my content so I just started over. New beginnings are one of my favorite things anyway and I decided I had a choice. I could be miserable over what had happened or I could embrace the opportunity for a fresh start. I chose to embrace the chance to begin again.
I went to the Relevant Conference in October and came home to jump headfirst into our busy season at work so I didn't have a whole lot of blogging time available until February. Then I made a comment about wanting to go to Blissdom but it would take a miracle … and a blog friend paid my way so I could go. It was beyond awesome and I heard a couple of speakers with the potential to rock my world … blogging and otherwise. Jon Acuff  & Jeff Goins I came home determined to write more and better and to quit worrying about numbers and comments! I decided to give up my health and fitness blog because I didn't just love it and I didn't have time to keep 3 blogs going. And I started pursuing opportunities to hone this writing craft.
Okay … so what is my blogging dream? I want to find a way to make this blogging thing make enough money to support my family. Whether I do that through advertising (dubious), e-books, or conventional publishing … I want to write and make a living at it. I also want to encourage and inspire … especially women. I want to share my struggles, not for your sympathy, but to encourage you that God is faithful … even in the darkest places.
I am still a niche-less blogger. Solidly faith-based but other than that … I write whatever I feel led to write in the moment. And I'm loving it! Thanks for reading!